Lilach was born in Israel on September 14th 1997. Her father did not celebrate her fourth birthday with her since she was taken by her mother, Dr.Marina Belfer Rotem, to the United States on the 26th of July 2001. She has since disappeared.
Lilach has light brown hair, brown eyes, and is 110-115 cm tall. She is thin, and speaks Hebrew and Russian, although her Hebrew may have been almost completely forgotten by now.


On her second birthday (Boomer is six weeks of age).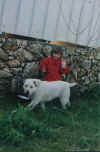 Three years old (see how much Boomer has grown).


Last picture with Daddy!